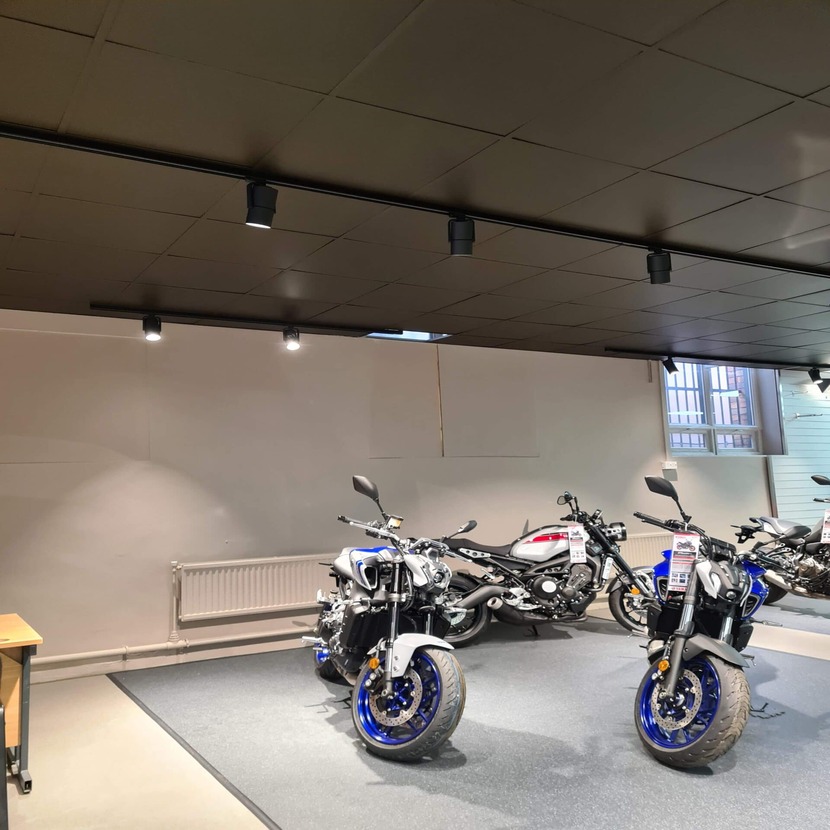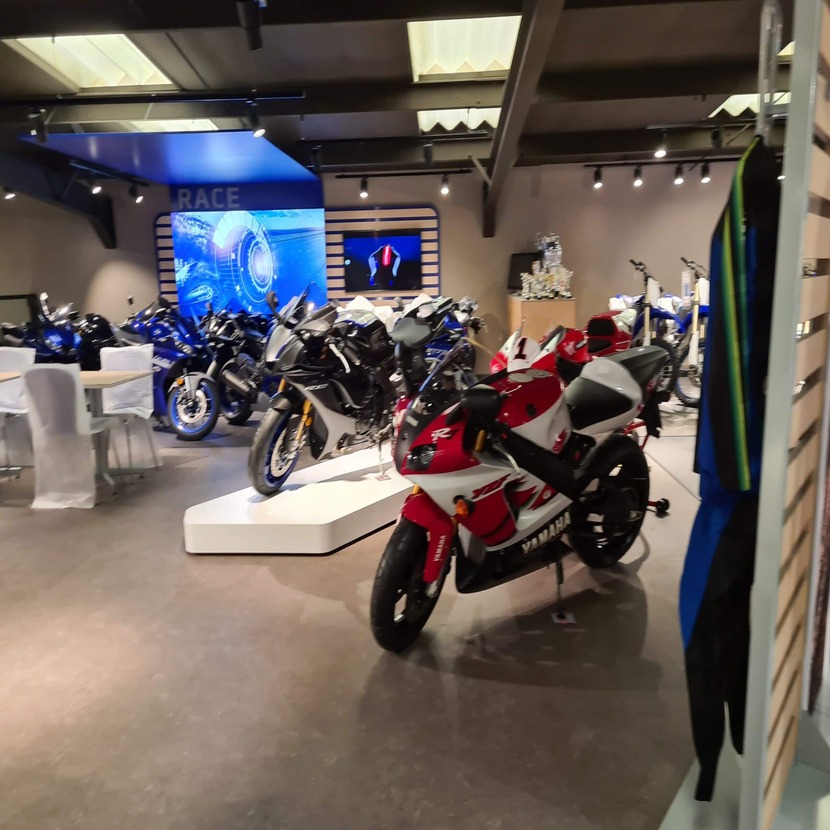 Work of a commercial Decorator
Alan Cox Decorators is proud to announce the completion of a significant project at a Yamaha motorcycle dealership in Leicester. The project involved painting the dealership's exterior walls and interior spaces, transforming the facility into a sleek and modern space that reflects the brand's cutting-edge image. With over thirty years of experience in the painting and decorating industry, Alan Cox Decorators is Leicester's go-to painter and decorator for your commercial needs. The team worked closely with the dealership's management to ensure the project was completed on time and to the highest standards. In this blog post, we will take a closer look at the project and how Alan Cox Decorators helped to bring the dealership's vision to life.
1) Transforming Yamaha Showrooms with Alan Cox Decorators
Alan Cox Decorators transformed multiple Yamaha showrooms into inviting, modern spaces that impress customers upon arrival. If you are looking to elevate the look of your commercial space, a professional painter and decorator in Leicester like Alan Cox Decorators, can make all the difference. With years of experience, they have transformed numerous commercial spaces into aesthetically pleasing and functional areas. From expert colour selection to fine finishes, they offer a comprehensive range of commercial decorating services that cater to diverse needs and budgets. By choosing a professional painter and decorator in Leicestershire like Alan Cox Decorators, you can create a lasting impression on your customers and enhance the value of your space.
Additionally, engaging the expertise of a commercial painter and decorator can help to make sure that businesses create an atmosphere that is reflective of their brand. Yamaha has done this successfully by utilizing vibrant and sleek decor, making it obvious that they are an innovative and stylish company
2) The Process Behind a Commercial Paint Job
Thorough preparation is an essential step in achieving a successful commercial decorating project. Ensuring all surfaces are clean and free of dirt or debris is crucial to obtaining a superior finish. Scraping off any loose or peeling paint, repairing any damage and applying primer will provide a solid foundation for the commercial paint job. Furthermore, proper preparation allows the paint to adhere better to the surfaces, reducing the likelihood of cracking or flaking later down the line. The importance of preparation in commercial decorating cannot be overstated, as it lays the groundwork for a beautiful and long-lasting finish.
Additionally, a professional painter and decorator in Leicester can help guide you through choosing the right paint for your commercial project. They will consider the type of surface, its location and the desired finish to ensure you get the optimal result from their painting services. Choosing a reputable painter and decorator will give you peace of mind that your project is in safe hands from start to finish.
3) Reviving an Aging Showroom with Colour and Texture
Updating the colour palette of any commercial space is an excellent way to refresh its ambience and appeal. Commercial decorating can take a business to the next level, and with the right painter and decorator, the results are professional and impressive. Painter and Decorator in Leicestershire we are experienced professional specialising in commercial decorating. They have a keen eye for detail and understand how the aesthetic appeal of a commercial space impacts profitability. Using high-quality materials and modern techniques, they can transform any space into a welcoming and inviting environment. Their ability to work within agreed timelines while adhering to industry-best practices makes them an ideal choice for businesses looking to refresh their spaces. Updating the colour palette of a showroom with fresh, modern hues enhances its appeal and instils a sense of newness that attracts customers. With the right commercial decorating partner, such as Alan Cox Decorators, this can be achieved quickly and efficiently.
Also, commercial decorating allows creating a unique space with various colours, textures, and materials. By incorporating these elements into the design, businesses can create an inviting atmosphere encouraging customers to browse and explore their products. The vibrant colours and exciting textures can stimulate the consumer's senses, drawing their attention and engaging them with the displayed items. Commercial decorating is an effective tool for creating a space that captures customers' attention.
4) Unmatched Quality from Experienced Professionals
With an unwavering commitment to detail, our Commercial team at Alan Cox Decorators goes above and beyond to deliver exceptional service for every project we undertake. We understand the importance of aesthetics and functionality when it comes to designing commercial spaces. For this reason, we work closely with our clients to understand their unique requirements and preferences for their commercial properties. Our skilled painter and decorator Leicester team is equipped with the latest tools and technology to ensure high-quality finishes that stand the test of time. We are dedicated to completing projects on time and within budget while ensuring minimal disruption to our clients' operations. Trust us to transform your commercial space into a functional, aesthetically pleasing environment that reflects your brand's values and identity.
Our team of experienced professionals understands the importance of creating a welcoming and attractive commercial space that reflects your brand identity. We specialize in commercial decorating, focusing on creating dynamic and engaging environments that delight customers and employees alike. Our team will work closely with you to understand your unique needs and develop a customized plan that meets your goals.
Whether you're looking to update your storefront or transform your office space, our team has the expertise and skill to do the job right. We use only the highest quality materials and equipment to ensure your commercial decorating project is completed to the highest standards. Our attention to detail ensures that every project is a masterpiece of style and elegance, with a strong focus on durability and maintenance.
When you work with us, you can trust that our team will deliver top-quality workmanship that surpasses industry standards. We are committed to providing the best possible service and results, and we take pride in creating beautiful, functional spaces that meet your needs and exceed your expectations. Contact us today to learn more about our commercial decorating services and how we can help you transform your space
Furthermore, our experienced team of commercial decorating professionals is committed to providing exceptional quality with every project we take on. We bring years of expertise and use custom finishes and intricate designs to make your vision a reality. Our commitment to excellence sets us apart from all other commercial decorating solutions, making us the premier choice for businesses everywhere.
5) Enhancing Customer Experience with Aesthetic Updates
Updating the aesthetics of a commercial space can improve the overall customer experience by creating a welcoming and visually appealing environment. Commercial decorating is essential to enhancing any business's brand image. By incorporating colours and designs that reflect the brand's personality, commercial decorating can help create a unique and memorable impression among customers. In today's competitive marketplace, a visually stimulating environment can significantly impact the customer's perception of the business, resulting in increased footfall and sales. So, investing in commercial decorating can prove to be a wise decision for businesses looking to boost their brand image and attract more customers.
Again, a professional painter and decorator in Leicestershire can help businesses create customized decorative elements that promote the customer experience. This can include brand-specific colour schemes, signage or other elements that evoke positive emotional responses and reinforce brand identity. Commercial decorating services effectively distinguish oneself from competitors and create a memorable impression with customers.